MMMMMMMMMMMMMMMMDDDRRR juste à vous relire je suis morte de rire jpp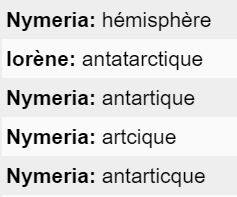 flowers girl
Life is all about balance. You don't always need to be getting stuff done. Sometimes it's perfectly ok, and absolutely necessary, to shut down, kick back, and do nothing.
PTDRRRRRRRRRRRRR JE RE-MEURS
I can't forget the sound of your voice in the middle of the night. I can't forget the way your lips felt pressed against mine. I can't forget the way you looked when you were asleep right next to me. I can't unlove you and it's killing me.
TRULY. MADLY. SECRETLY. ♡
" From:Lorène : t'as qu'à prendre le SS501 accusé de viol stv meg ça correspond bien à jae in"  
 signé Lorène (Suah et tous les autres débilos qu'elle joue)
C'EST QUOI CA ???????????????????? VIOL = JAE IN PUTAIN MAIS LA REPUT QU'ELLE ME FAIT L'AUTRE JPPPPPPPPPPP
LE GRAND RETOUR DE NYMERIA DANS LA CONVO SHARK
@Lee Jae Joon
@Lee Mi Young
@Lee Jae Sang
Citation :

Krystine, 23:45 : MAIS QUOI TU DIS QUE TU VAS BOUFFER ET DORMIR JE SUIS GENTILLE JE TE DIS BONNE NUIT
outrée (emo)
Helvia, 23:45 : MAIS DIS JUSTE BON APP PTN
J'SERAIS REPASSÉE DIRE BONNE NUIT
Krystine, 23:46 : MDR
BEN BON APP
VOILA
MANGE BIEN ET REMPLIS TOI BIEN LE VENTRE
Helvia, 23:46 : MERCI MDRRRR
Nymeria, 23:47 : Bon appétit et bonne nuit !
Helvia, 23:48 : MAIS.
(Finger)
Nymeria, 23:48 : Pourquoi tu me finger toi ?
Helvia, 23:48 : PARCE QUE
JE VIENS DE ME BATTRE AVEC KRY POUR QU'ELLE DISE JUSTE BON APP ET TOI TU ME BALANCES LES DEUX DLAJSLABQ
Nymeria, 23:49 : ptdr j'ai rien suivie stp
Helvia, 23:49 : Je vais repasser après
Nymeria, 23:49 : j'ai vue bonne nuit et bon appétit, j'ai juste répété
BON BAH BON REPASSAGE
Helvia, 23:49 : HEIN
MAIS
Krystine, 23:49 : MDRRRRRRRRRRR
Helvia, 23:49 : Oh ptn (cwl)
Nymeria, 23:49 : Ah merde
Jsuis au bout d'ma vie
you make me smile like the sun ✯ fall out of bed, sing like a bird. dizzy in my head, spin like a record. crazy on a sunday night, you make me dance like a fool, forget how to breathe, shine like gold. oh you make me smile.
Oh ça va, la phrase portait à confusion d'abord
+LIKE I WOULD+

He, won't touch you like I do, He won't love you like I would, He don't know your body, He don't do you right, He won't love you like I would, Love you like I Would
CA M'A ACHEVÉE
l'imbécile heureux ♒︎

Jaesang ne possède aucune logique. Mais qui a dit qu'une âme humaine ne devrait pas être complexe, après tout ?

© endlesslove.
le t9 de
@yu jasun
est très tendancieux je trouve.
Citation :

[17:27:42] Emma ❧ Pandora.a: En bonne riche, Bibi elle va aussi avoir un mignon petit loft hein :')
[17:27:48] Jufrix: [17:25] Emma ❧ Pandora.a: <<< LA TIENNE
suce à good bouche
[17:27:54] Jufrix: Omg
[17:27:57] Jufrix: j'ai honte
[17:28:03] 트라지 ♞ INFJ-T: alors là
[17:28:03] 트라지 ♞ INFJ-T: J'AI EXPLOSE DE RIRE
[17:28:08] Jufrix: such a good choice
I see things at night... terrifying things. I tell myself it's only nightmares, but... I know it's not true. Once Pandora's box is open, it can never be closed again. No... it's not nightmares. It's what is about to happen. I've died twice already. I'm not afraid of death anymore. — .

beyond two souls
kdo de mallau:
Si un jour vous cherchez un mot, demandez à Mogo quand même, ça vaut le coup.
du coup j'ai toujours pas trouvé le mot, si ya une âme charitable qui passe par là pour m'aider, ce sera avec plaisir
I'm friends with the monster that's under my bed
J'AI TOUJOURS PAS LE MOT
ma bonté me perdra, je voulais seulement aider
strong men have sound ideas
and the force to make these ideas effective